Rick Howie is a Micro-Naturalist
Kamloops-Based Naturalist
Rick Howie is a professional biologist with fifty years experience. His career has taken him across Canada while working in National Parks. For the last forty years he's been based in central British Columbia.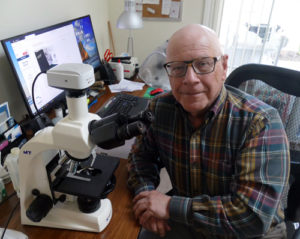 Rick Howie worked for Parks Canada as well as BC Provincial Parks and the BC Wildlife Branch for a total of 33 years. After retirement he launched his own consulting company which he has operated for 15 years. His work consists of wildlife inventory for conservation organizations as well as wildlife impact assessments from urban and suburban developments. He also conducts riparian area reports to ensure that stream-side developments are in compliance with provincial legislation.
His interest in microscopy is a new initiative. It aids him in identifying smaller wildlife and plants as part of an ongoing biodiversity inventory he has initiated for the Kamloops area. He hopes to develop some capacity for identifying freshwater organisms that require a microscope to reveal their secrets. He currently owns a Meiji binocular stereo scope as well as a Meiji compound scope, both with camera attachments. The transition from years studying wildlife with a telescope to observing with a microscope has been an exciting new experience.
Curiously the focus that unites us is sand. From his many provincial and international travels he has generously brought me sand samples to study. His microscope interests are global and he is always interested to experience the specialties of others. Most significantly he is interested in involving more naturalists in the use of a microscope to study and appreciate the natural environment.